Listen. Listen. Listen. That's how I've been taught to get people's attention—just repeating the word listen. Are you listening?
It's been a while since I've written basketball things, but, like, it's NBA basketball season 2.0, the never-ending, highlight-manufacturing, circus show that ends the never-ending, highlight-manufacturing, circus show that is the NBA season in a burning blaze of glory. And I should have plenty in the tank so to speak, since I haven't exactly availed of the aforementioned idiomatic tank in a veritable long ass time.
Atlanta Hawks (1) v. Brooklyn Nets (8)
Alright, so Kyle Korver narrowly missed being the only dude ever to make the 90-50-50 club (with a paltry 89.8 FT%, 49.2 3PT%, 48.7 FG%), but let's be honest and admit that back in November, this was what we, the basketball elite, and Hawks fans from Macedonia to Decatur were positive was going to be the most memorable thing the Hawks did this year.
Yet somehow Coach Mike Budenholzer has orchestrated a magical season, turning a watery (pretty muddy water at that) lineup into a fine, 60-win vintage with notes of juniper berry that finish with savory, peppery undertones (read: Coach Bud is Jesus, which makes Greg Popovich God). Four of the starters made the All-Star game, only the seventh time in the history of the NBA. Collectively, they balance the 10th best offense that assists the second highest total in the NBA with the 5th best defense—all without anyone averaging more than 17 points or 33 minutes per game (both: Paul Millsap).
The Hawks have given us shades of the Spurs-East, and at times have been the most entertaining team to watch in the NBA (sorry I'm not sorry, Steve Kerr). This has been in large part due to the revelation Al Horford has been, putting up numbers not unlike The Big Fundamental Tim Duncan, himself.
               Player A: 18.0p, 8.4r, 3.8a, 1.5b, 53.8fg%, 21.4 PER, 8.7 WS
               Player B: 17.3p, 11.4r, 3.7a, 2.4b, 51.2fg%, 22.6 PER, 9.6 WS
Hold the suspense. Horford is Player A. Let's keep in mind, Horford played only 29 games last season and 11 games two seasons before that.
Lastly, in your NBA playoff bacchanalia that I've been assured other people do as well and is a perfectly normal ass thing to do in celebration of the greatest sports event ever, don't' forget to pour one out for Thabo.
PREDICTION: Give me the broom. Give me the broom. *sung to Biggie's "Give Me the Loot." Hawks sweep.
Toronto Raptors (4) v. Washington Wizards (5)
This will be the second most intriguing matchup in the East. 2 things to watch out for besides the backcourt battle:
Toronto GM Masai Ujiri launching another f-bomb in a pre-playoff game hype train spinning off a geopolitical beef with Paul Pierce that may or may not include POTUS, launch codes, and chants of Buck the FlueJays till infinite.
What banal and innocuous hygiene tool will DRAKE! turn into one of the most brilliant marketing schemes of the year? What could possibly be better than lint rollers? Floss? Toenail clippers (wait, Steve Ballmer, did we just stumble into something together?!)? Hair curlers? Those tiny paper cups that fancy people keep in a dispenser for rinsing mouthwash? Indentured servants? Lest we forget, since DRAKE! officially partnered with the Raptors organization as "Trill Ass Global Skrilla Ambassador" or T.A.G.S.A., they have gone from a 34-win team that hadn't made the playoffs in 5 years to one of the best teams in the shitty Eastern Conference to get bounced in the first round.
PREDICTION: Toronto will make it to the second round for the first time since 2001 and for only their second time in franchise history. It will take all 7 games, a whole goddamn country's sheer force of will, and a Jimmy Brooks type effort.
Cleveland Cavaliers (2) v. Boston Celtics (7)
Kyrie Irving has never played in a playoff game before. Neither has Kevin Love. The Celtics are surging. Brad Stevens is a wiz. All true statements. There's also this:
Celtics vs. Kyrie-LeBron-Love lineups this season: ORtg — 94.4 DRtg — 125.0 Net Rtg — -30.6

— Conrad Kaczmarek (@ConradKazNBA) April 15, 2015
Oof, harumph, and bazinga. Lebron James in the playoffs has averaged 28.0p, 6.4a, 8.4r on a crazy 48.2 fg% in an inhuman 42.7 playoff minutes per game. 2013 Finals, Game 6:
2008 First Round, Game 1 (LBJ first career playoff game):
2013 Eastern Conference Finals, Game 7:
2013 Eastern Conference Finals, Game 1:
2009 Eastern Conference Finals, Game 2:
2014 Finals: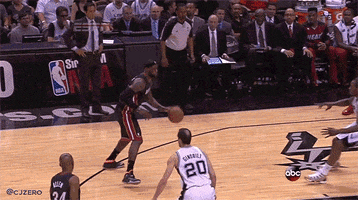 He may just eat your babies:
PREDICTION: Cavs in 5.
Chicago Bulls (3) v. Milwaukee Bucks (6)
This matchup is super duper fun times for basketball wonks. The Bulls find themselves in a rare position where they're facing a statistically superior defense come playoff time (although marginally so)—97.4 pts Bucks allowed per game v. 97.8 Bulls allow. Oddly, the Bucks score precisely the amount of points the Bulls allow—97.8. Jason Kidd has turned this band of long-armed avatars into the 8th best defense in the league with the most steals per game (9.6), all while sharing the ball at the 7th best clip with 23.6 assists per game. Unfortunately, the hustle J Kidd has inculcated into his young shapeshifters come at the cost of rebounds. They rank 24th in the rebounds while the Bulls tally the 3rd best rebounding rate in the NBA. Have I mentioned the Bucks height yet though? The starters come in averaging 6'9", of which they'll need every inch to corral Derrick Rose and Jimmy Butler, while staving off a deep and talented Bulls front court. The major storyline for the Bulls: emergence and resurgence.
Pau Gasol playing like it's 2005, bumping Lil Wayne on his 512 GB iPod Shuffle on the way to a cool 18.5p on an alarming 49.5 fg% and even more alarming 46.2 3pt%—oh yeah, and there's the career high in rebounding (11.8).
Nikola Mirotic making the case for Rookie of the Year and James (Harden) Beard Award honors averaging 20.8p, 7.6r on 44.1 fg% in just 30.8 mpg in March.
Jimmy Butler emerging as a go to offensive player in addition to the nightly guard-the-best-perimiter-player role he's so dutifully filled the last few years; in addition to resurging this past month, following a few weeks of a bona fide injury scare.
Taj Gibson also coming back from injury in the last month to put up solid double-double-esque numbers.
Joakim Noah finally moving the floor like the 20something he is, running the floor, getting those assist numbers up from 3.5 in January to 7.2 in March.
Derrick Rose suiting up at all.
PREDICTION: Jason Kidd will find a way to get fined sans spilling drinks (though he'll undoubtedly think about it), and it'll be the most entertaining defensive slugfest you've ever seen. Bulls in 6
Doodads and Knickknacks
MVP for Lebron
Lebron James is a phenomenal basketball player and deserves the MVP award.
From a statistical standpoint, he scores more than Steph Curry but less than Harden. He assists more than Harden, but less than Curry. He outrebounds them all. He has the highest field goal percentage on the highest attempts. He is without a doubt the best defender of the group.
Then there's the how-valuable-is-he-to-the-team wrinkle that gives blowhards like Colin Cowherd the leeway to say stupid shit on airwaves like Russell Westbrook is the second coming of Shaft and White Jesus.
But ultimately, I think it comes down to this: the Cavs we're looking at now didn't exist 12 months ago. The coach is new. Two of the three best players are new, and only four players remain from last season's roster. Whereas the Golden State Warriors are effectively the same team. Even the Houston Rockets' continued core brain trust of Kevin McHale, James Harden, Dwight Howard and those three other dudes that were also on the roster last season positively impacted this season's record. If continuity establishes trust, which is the bedrock of the game within the game, the turnover and new environments must be considered. That James could perform comparably to Curry and Harden in brand new (old) conditions, points to his deservingness.
I tried to start this section with something like "Stephen Curry and James Harden have had prodigious years…" I really did try, and they totally have. But fuck that. I get it. Nobody likes to see the same person win everything for forever. But the shear amount of articles I get bombarded with about the closeness of this MVP race that don't actually go into the argument for Lebron James is an insult. We only get Lebron for like another 5 years. Maybe. He deserves all of it. Everything.
Pitchforks for Michael Jordan
I had the good fortune of stumbling onto the below beauty of a quote from the G.O.A.T., His Royal Airness Michael Jordan. In a 2010 interview with CNBC, Jordan prophesized, "Ultimately, if you can say that I'm a bad owner and we're winning championships, I can live with that. But if we're not making the playoffs and we're spending and losing money, then I have to look in the mirror and say maybe I'm not taking the necessary steps to doing what it takes to run an organization." If by some miracle, MJ ever happened upon this paragraph (he won't), I want to maintain a semblance of respect and dignity (a first), so I won't say the thing I really want to say (also a first). I wouldn't venture to say eat crow, but maybe the lackluster performance as owner is having disastrous effects on the legacy of MJ? Pish posh and thimbles and stuff. We love you anyway, you gambling, self-aggrandizing, conceited, arrogant, bald, beautiful old-ladykiller, you.
Bitterness and Glee Reign, Man
Last night, Shawn Kemp hosted a party in celebration of the Thunder missing the playoffs. It was amazing. Or at least, I think it was. I have kids and was building a bunk bed from IKEA while everyone was getting turnt at Neumos. Thank god for Twitter:
Backstage. Neumos. Ten Stacks. Clinton Sparks. Shawn Kemp. pic.twitter.com/SlGSmp1xwT

— Neema Khorrami (@Mr10K) April 17, 2015