"There is another world, but it is inside this one." –W.B. Yeats
"It makes last year okay." –Tim Duncan
»«
The pinnacle of basketball achievement. The crown of buckets. The chef-d'œuvre of the hardwood. The Pink Panther diamond for the Inspector Clouseaus of the NBA world. The highest holiness of hoops.
Last night capped a thrilling—if somewhat surprising—2014 NBA Finals.
For the casual observer, Tim Duncan hoisting his fifth Larry O'Brien trophy and the youngest player ever to win the Bill Russell Finals MVP was just another cool thing that happened in the landscape of the ever-cool NBA. And it was. Cool. Really, really, really cool.
But it was also more than that.
From the moment the NBA Finals ended last year, the San Antonio Spurs have diligently, unwaveringly been working to craft all of what this past season would be about for them (if this sounds familiar, read: crush a narrative, little narrative, roll a narrative, take a narrative). Like a mantra or a basketball bouncing in an empty gym, you could hear it reverberating with every pass, every swish, every bank: Run it back.
Since June 20th, 2013: run it back. After watching the Heat celebrate on their court: run it back. For 361 consecutive days: run it back. From the start of training camp: run it back. For every practice: run it back. To every reporter's question: run it back. The 20 regular season games they lost: wait till we run it back.
Last night the Spurs finally paid off that promise uttered countless times on pick up courts the world over.
As the simple three word phrase flatly implies, "run it back" is a statement of ego. A dare, a provocation, a challenge to the opposing player, the opposing team to score on me, win it all—again.
Anyone with half a brain, who has seen any Spurs games over any period of time in the last 12 months could see in the way they played, they were "Run it back" mode.  And until Tim Duncan's post-game sideline interview with Doris Burke, I never gave much thought to the Spurs' reaction—other than the almost obligatory, "This team is ridonkulous. They'll probably get what exactly what they want and make the Finals again."
But in Tim Duncan's disarming quietness, in his unflinching and somehow original expression of trite sports clichés in the face of an aspirationally awkward first question, he unearthed something deeper than ego, truer to the condition of humanity, necessary to the human psyche.
          Burke: How does your team climb the mountain back to NBA Champion?
          Duncan: Great coaching. Persistence. Drive. Love for the game. We remembered what happened last year and how it felt in that locker room. And we used it and built on it and got back here, and it's amazing. It makes last year okay.
Did you hear that? It makes last year okay. He hesitates, then lets it spill. It makes last year okay.
Up until that moment, I had never thought forgiveness (true forgiveness, not the good-sportsmanship-I'll-help-you-out-after-that-flagrant-foul-slash-flop-city forgiveness) had a place in the world of sports—professional or amateur.
In the testosterone driven, ultra-competitive sporting arena, it's no surprise we use the metaphors of war: our athletes are warriors and we expect them to battle. Yet Duncan—demonstrating true bravery and more than any other professional athlete today—stands as a vanguard for the kind, the loving, the sensitive—the warrior with feelings. He has always been a great teammate. The way he holds Tony after a victory, or goes forehead-to-forehead with Manu speaks volumes on Duncan's passion and reliability.
What makes this particular confession from Duncan so startlingly profound though is the subject of his forgiveness: himself and his team (but mostly himself).
If forgiveness is "the release of all hope for a better past," then that moment, that hesitation was the release. And without the past driving his actions, Duncan was finally able to  (perhaps for the first time all season) be present, live and experience that moment of joy.
Even in that definitive moment of triumph, wherein he had all the right to say some shit about We The Champs or Being King of the World (read: Kevin Garnett), Duncan—as he has consistently, and more so as of late—acquiesces into an apparently honest expression, letting slip the profound humanity of basketball.
Basketball is the most team of sports (I'm pretty sure I've written that a dozen times now), and within these lines, positions and roles, there is and always has been another game happening (the most important one). That game within the game relies, fundamentally and absolutely, on the relationships and understanding built from the players involved.
It should come as no surprise that feelings, aspirations, being sensitive to others needs and desires play a critical role in the formulation of a basketball team. After all, they mean a lot to our day-to-day lives and the narrative we impose on them. They—along with ego, forgiveness, joy, heartbreak and the like—are a necessary part of navigating the world, and being, you know, human.
Yet yesterday, thanks to Tim Duncan, I discovered—maybe re-remembered—yet another layer of this sport that I have loved for so long. Every facet of humanity has a place and, more importantly, belongs out there on the court—even forgiveness, self-forgiveness.
And so it was with an ambivalent heart that I celebrated a San Antonio victory last night.
Despite my fanatical impulses, I still feel like I managed to take this NBA season for granted—as if I hadn't milked every possible triumph and tragedy, small or large, out of it. I had expected the Finals series to last at least six, probably seven games—I would milk another couple blog posts and few more thousand words out it.
But that wasn't the case, and as giddy as the season began, it ended.
Here are the five things from the five games worth remembering in five years:
The Spurs Were Better Than the Heat
It seems so obvious. But all too often in our headline-driven sports world, the biggest characters dominate the narrative—even if they don't deserve it (see: Johnny Manziel, Jimmer Fredette). Maybe this time will be different (it won't) but I hold out for the 2014 Finals being remembered as one of the greatest demonstrations of excellence exhibited by any team ever, not the Finals were Lebron cramped, Wade showed his age, or the last run of Miami's big three.
In the last three games, the Spurs played the kind of basketball that makes coaches wet themselves. Ball movement, team defense, ball movement, excellent shot selection, ball movement, off-ball screens, ball movement, fantastic shooting, ball movement.
They passed so much, it made heads spin. In last night's stupor, I did manage one coherent thought: I will not spend the off-season disparaging the Miami Heat for their generally crappy play.
They lost their losses badly—by the margins of 15, 19, 21 and 17. Their only victory came by one possession.
In a twist of fate architected by the forces responsible for Benjamin Button, the Heat looked older, slower, and unfocused down the stretch.
Pretty much the exact opposite of Brad Pitt:
Lebron seemed to the only player who was trying—until Michael Beasley came in. Thank God for Michael Beasley, I remembered thinking.
(WHAT THE HELL! AT ONE POINT, I ACTUALLY FOUND MYSELF WONDERING IF MICHAEL BEASLEY IS THE ANSWER TO ALL THE HEAT'S PROBLEMS. THAT'S HOW BAD IT GOT, THAT WE'RE WRITING SENTENCES LIKE THAT!!)
No. The Spurs played a brand of basketball barely conceivable by a single human mind. They made honest yet another trite sports cliché: that a true team of solid players can beat one truly great player. This off-season shall remain a celebration of San Antonio.
The Duncan Shot
I've already waxed poetic on Tim Duncan. I could almost certainly continue for another thousand words, but instead:
(How many words are gif worth?)
Duncan was among the first to criticize his missed "bunny" shot in last year's Finals that would have sealed the deal. Given the weight of the last eleven months, this prevails as the only Duncan shot in the Finals that matters.
The Karowning of Kawhi
At the start of the month, Greg Popovich told everyone, Kawhi Leonard was the "future of the Spurs." Pop failed mention, however, that "the future" meant two weeks from now.
Heralded now and for the rest of his life as the youngest NBA Finals MVP ever, Kawhi took over games four, five and six. No doubt, Kawhi led the Spurs team, and he did it entirely in deed, averaging 23.6 points, 7 rebounds and 2 steals on a ridiculous 69% shooting over the least three games. In that stretch he also lead the team in both minutes played (112) and +/1 (+59)—an incredibly difficult feat.
More impressive than Leonard's obvious statistical effort was his abrupt lack of deference. It was as if he suddenly flipped the switch for a well-spring of confidence. On two-on-ones (which he earned fairly often post-steals), instead of passing the rock up, or worse, hesitating, Kawhi would determinedly put his head down around the free throw line and take it to whoever happened to be in his way—if there was anyone there at all: His hand checking defense is almost as fun to watch:
Then there was this…
I was holding my six month old son when Sugar K Leonard happened all over that put-back. It may have been the metric ton of baby food he just ate, but he literally shit his pants.
Another angle (including Duncan's reaction—only adding to the list of reasons he'd be fun to play with):
Ultimately, the question with Kawhi going forward will be what kind of leader will he become?
In his first two NBA seasons, even in his last three games, he didn't have to be the vocal leader. With the triumvirate of mentors and Pop at the helm, he only had to bring the passion, meet their words with play (which is, alone, an incredible feat for anyone, much less a 22 year old).
Sugar K clearly has the skill set, but the person he chooses to be on the basketball court will most likely be the biggest self-determinant to his hoops success. Will he continue the tradition of the quiet and sensitive Duncan? Will something snap in the depths of his psyche that turns him into Gary Payton? What happens if, somehow beyond reason, Kawhi changes teams, changes coaches?
Fortunately with Pop on the side line, K's got quiet the safety net to experiment with.
Old man got game, not old man game
I've written a lot about old man game. I have a special affinity for old man game. That's because I have never played near the rim, much less above it, so I only know how to play with old man game.
My fault in talking about NBA practitioners of Old Man Game is that I often cheer on their methods, forgetting entirely that those players didn't come into the NBA ancient. Fortunately, a couple almost-40-somethings wore their Marty McFlies and reminded the world that the 90s were not that long ago. I swear.
First there was Ray #Jesussaves Allen: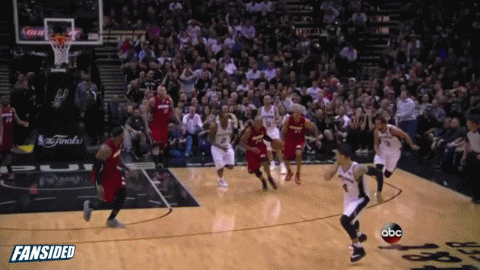 Then Manu turning back the clock—clearly inspired by fellow Argentine Lionel Messi's goal earlier that day:
Then again there's Duncan. He's 38. And I've already written a novella about him in the last month.
Zero to hero: A Spurs Rite of Passage
In the 2013 Finals before the Heat went nuts, I thought the Spurs had found the future big three in Kawhi Leonard, Gary Neal, and Danny Green. Silly me.
Neal parlayed a pretty okay playoff run into a $3.25 million check signed the Milwaukee Bucks. Green returned to Earth and saw his production and minutes decrease (which is sort of a non-sequitur for the Spurs).
Entering the off-season as a free agent, Mills is poised to follow in Neal's footsteps.
  2013 Finals Neal: 9.4 p, 0.9 a, 2.4 r, 47% 3pt, 41% fg
          2014 Finals Mills: 10.2 p, 1.6 a, 1.4 r, 57% 3pt, 54% fg
Make it rain, Patty. Make it rain.
Since Tony Parker was sidelined for 14 games and Mills stepped into the starting lineup, all he did was play out of his mind.
In a blind player comparison for these Finals:*
Player A: 24.2 p, 3.8 a, 3.3 r, 57% 3pt, 54% fg
Player B: 15.9 p, 2.7 a, 4 r, 34% 3pt, 44% fg
Player C: 18.4 p, 4.7 a, 0.4 r, 42% 3pt, 48% fg
Player D: 18.1 p, 5.5 a, 3.8 r, 42% 3pt, 50% fg
*per 36 minutes
Can you guess which one is Patty Mills? In order: Patty, Dwyane Wade, Tony Parker and Manu Ginobili.
By all accounts, Mills seems to be a pretty funny Aussie, too, so he'll probably end up sticking with the Spurs. Let's hope so.